CORONAVIRUS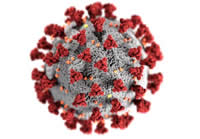 The Washington Travel Clinic is capable of testing for SARS-CoV-2 (coronavirus). The test consists of a nasal or oral swab that is sent for processing by PCR at Quest Diagnostics. Processing times average 3 to 4 calendar days (these are estimates and are NOT guarantees). We can also test for prior exposure to the virus via a blood test for antibodies that is 100% sensitive and 99% specific.
Results will be e-mailed to you. We do NOT require a referral by another healthcare provider. Patients with symptoms should refrain from presenting to the office. If you have symptoms of COVID-19 such as fever, cough, sore throat or runny nose, please visit the website of your state's Department of Health for testing locations.
There are office fees and lab fees, as follows:
Office fees:
Swab test only: $100.
Blood test only: $100
Swab and blood test: $135
Lab Fees:
Quest will bill your insurance carrier for the test itself. If you are uninsured, Quest will bill you $100 for the swab test and $55 for the blood test.
We will provide you with a receipt which you can submit to your insurance carrier for reimbursement of the office fees. Please note that when you make an appointment you will be required to make a $30 deposit by credit card, which is non-refundable. This will be deducted from your total at the time of your visit. There is no charge for rescheduling appointments, which can also be done online.
We receive a large number of phone calls and we are unable to answer them all. Most questions we receive are already answered on this page and elsewhere on the website.
Click here for the Patient Fact Sheet concerning the Quest PCR test.
Click here to read about the antibody test.
If you wish to be tested, please make an appointment online.